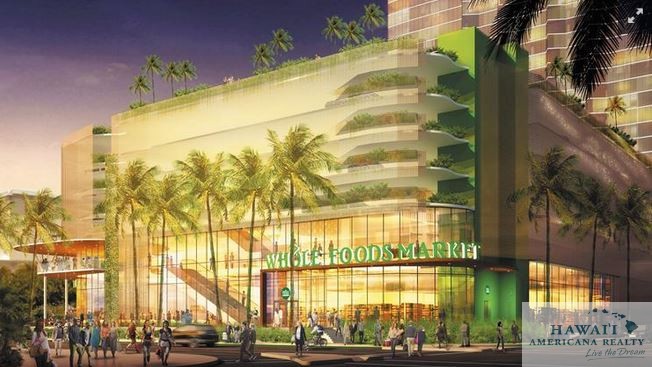 Lottery to start sales for half of 466 condo units in Howard Hughes' Aeo project
The Howard Hughes Corp. is opening sales for its third Honolulu condominium tower in its Ward Village master plan, Aeo at 1001 Queen Street, this weekend with 234 of the building's total 466 units being offered to owner-occupants in a public lottery.
The building, which is being designed by Bohlin Cywinski Jackson, will also have 60,000 square feet of retail, including Hawaii's flagship Whole Foods Market store, is being built on the former Nordstrom Rack and Office Depot site behind the Ward Entertainment Center, is scheduled to be completed in 2018.
It's the third tower to start sales for Texas-based Howard Hughes Corp. (NYSE: HHC), which said in May that its two other towers under construction, the 171-unit Waiea project and the 311-unit Anaha project, were more than 75 percent sold.
Prices for the owner-occupant units at Aeo, whose buyers will be required to use them as their principal residence for at least one year, begin at $405,016 for a 409-square-foot one-bath studio, $573,000 for a 612-square-foot one-bedroom, one-bath unit; $860,000 for an 860-square-foot two-bedroom, two-bath unit; and $1.39 million for a 1,239 square-foot three-bedroom, three-bath unit.
The public lottery for the units will be held on Saturday at the Howard Hughes sales office at the IBM Building at 1240 Ala Moana Blvd., Suite 100.
Darin Moriki Reporter Pacific Business News